What is Dark Academia aesthetic?
Dark Academia is a concept that focuses on schooling, reading, writing, keeping journal, the arts, as well as Greek and Gothic cultures. It is a notion that inspires passion for learning and self betterment. Dark Academia aesthetic is a way of living first and a way of dressing second.
What is Dark Academia fashion?
Dark Academia fashion is inspired by clothing worn by Oxford, Cambridge, and Ivy League schools students, as well as students in boarding schools in 1930s and 1940s. Hence, clothes most often linked with Dark Academia fashion are blazers, cardigans, silk blouses, trousers, and low-heel shoes.
How to dress like Dark Academia?
To dress like Dark Academia, you need to combine sophisticated classic style with a pinch of mystery. Easier said than done, right? To simplify the concept, let's break down this fashion trend into three categories: colors, clothing, and accessories.
Colors
Dark Academia aesthetic consists primarily of earthy tones – brown, black, tan, burgundy, olive green, and gray. You can certainly use some white or beige pieces, but only as secondary colors. Consequently, main colors should be on the darker side. Most importantly, try to stay away from bright colors, as these do not fit with Dark Academia style.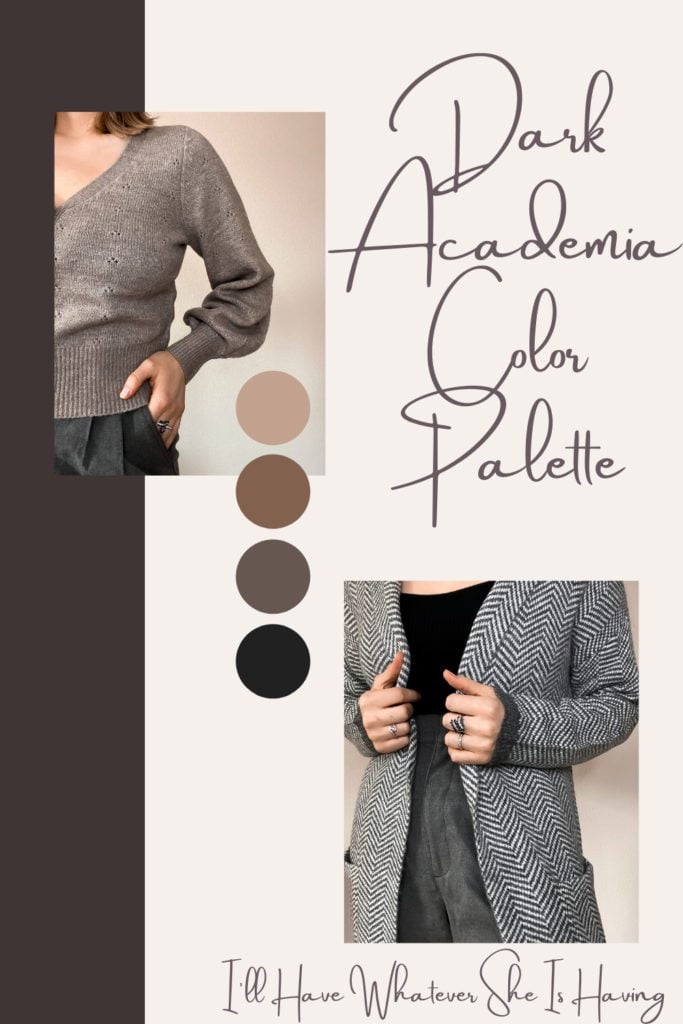 Clothing
Tops
For the tops, an elegant blouse or a turtleneck is always a good choice. Further, you can wear polo shirts, knit sweaters, or knit vests in neutral earthy tones. To add layers, cardigans and blazers are excellent options.
The goal with tops is to keep the colors and tones muted – that means no crazy patterns. If you would like to add a pattern, plaid is a good option. Another great way to add some interest to otherwise plain outfits is adding textures and pretty knit details.
Bottoms
To dress like Dark Academia, you need to keep your bottoms as elegant and classy as your tops. For instance, some of the timeless options include pleat, pintuck, cropped, or men's trousers with a belt. Additionally, plaid mini or midi skirts, and skirts or dresses made of heavy fabrics would make an excellent choice. While we are on the topic of dresses, have a look at these 187 Charming Cottagecore Dresses to see if cottagecore aesthetic might catch your eye.
Linen bottoms, such as shorts or pants, are also an acceptable option for warmer days, but should mostly be used as a complimentary fabric. If you would like to add jeans to your Dark Academia wardrobe, clearly, ripped jeans would be unacceptable. Instead, opt in for mom jeans or boyfriend jeans in dark wash colors.
Outerwear
To stay consistent with classic elegant style, Dark Academia outerwear options will include trench coat, dad coat, and plaid coat. It would be ideal to pick outerwear with a straight cut (meaning, a cut that does not narrow around your waist). If your outerwear has a belt, leave it hanging or tie in a loose knot behind your back.
However, if you still want to accentuate your waistline, do so with your bottom layers. You can tuck in your top or sweater to create that thinning accent around the waist.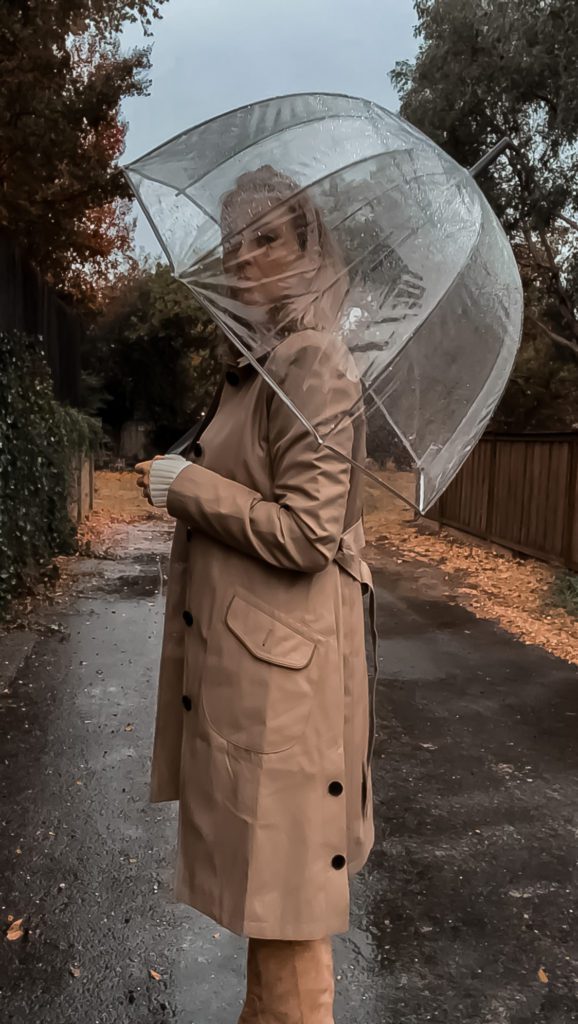 Shoes
Oxford shoes, laced boots, booties, or Mary Jane shoes would make perfect Dark Academia shoes. A great complement to these shoes would be knee-high socks or ankle socks with ruffle detail. Furthermore, steer away from high heels and stilettos, as these types of heels do not conform to the academia aesthetic.
Accessories
Hair Accessories
As with the rest of the outfit, simple and elegant hair accessories complement Dark Academia aesthetic look the most. A silk scarf tied in a knot around a half updo or in place of a headband would be an elegant choice. Alternatively, you can wear a plaid knotted headband, a leather headband, or a silk headband. Whatever option you go with, make sure to stay within muted earth tone colors.
Belts
A beautifully crafted belt can accentuate your waist and add a final touch to your Dark Academia look. Belt, however, needs to be just as classy as the rest of your outfit. Opt-in for brown or black color with minimal detail. If you want something more high-end, go with a Gucci belt, which is a classic piece that will last you for years. If you want a more affordable option, a waist belt or a classic design belt will be tasteful choices as well.
Jewelry
A rule of thumb with Dark Academia fashion is to keep everything to a minimum, including jewelry and accessories. Therefore, do not go overboard with rings and bangle bracelets. A classic link necklace styled with initial pendant necklace is a classic and timeless option. Surely, a vintage watch could be a great addition to the Dark Academia vibe. However, if you cannot part with your digital watch, you can simply use a vintage-looking watch band.
Bags
Two most relevant bag options for Dark Academia look would be vintage backpack and messenger crossbody bag. Whatever option you pick, make sure it is big enough to fit all your books – it is called Academia for a reason.
Where to buy Dark Academia clothes online?
Although there is not a single retailer that offers a large variety of Dark Academia outfit options, here are some brands that carry pieces that can be assembled into your desired style:
What is the difference between Dark and Light Academia?
Light Academia is a concept closely related to Dark Academia with major contrast in the mood of aesthetic. For instance, dark academia focuses on self-discovery and understanding of life on a very deep and philosophical level, whereas light academia is a more romanticized lifestyle with focus on self-care, love of nature, and socializing.
According to Fandom, an expert on pop culture, Light Academia is "similar to Dark Academia, but with a distinctly lighter color palette and overall aesthetic". Surely, you can easily apply the same style concepts as Dark Academia follows but in a lighter color palette.
Is Dark Academia trend only for students?
Dark Academia trend is not only for students. If you love learning, reading, and/or writing, and love wearing blazers, trousers, plaid skirts, and blouses, you can pull off Dark Academia style at any age. As discussed before, Dark Academia is a way of living and the circle of Dark Academia supporters will welcome any new members with open arms.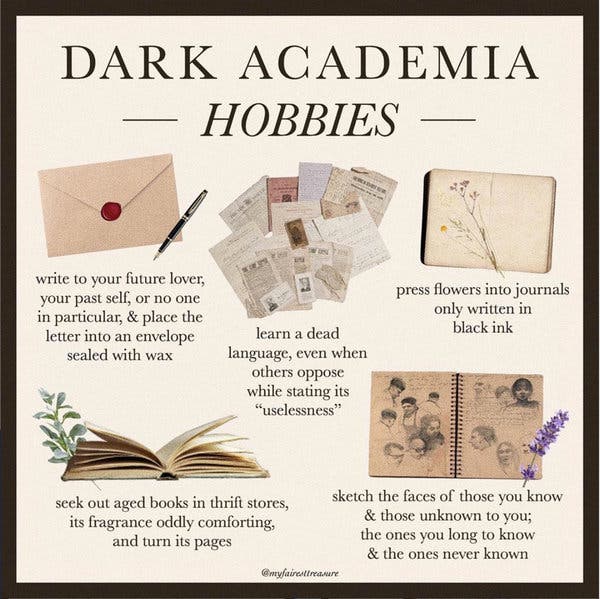 If you have a little one that you hope would develop deep love for reading, learning, and exploring, read my post 70 Best Books for Children in 2021 – there are tons of great quality books that will surely help your children fall in love with books and the process of learning itself. Surely, by the time your little ones grow up, Dark Academia might be a thing of the past. However, I am certain that lifelong hunger for knowledge is the best gift you can give your little learners.
What other trends besides Dark Academia aesthetic are you interested to learn about?